Hi everyone!! I am currently back in Boston after spending the most amazing week in Europe with my family. We haven't had a family vacation in years! Not because we haven't been traveling anywhere, in fact, because of quite the opposite reason. We each have had work (or school- in my sister's case) commitments and its difficult for the four of us to coordinate our busy schedules so our free time falls in-sync with one anothers. Anyway, somehow this trip worked out for all of us and I am so glad it did because it was truly a trip of a lifetime.
Here's a breakdown of our trip...
Cities we went to:
London
Nice
St Tropez
Cannes
Antibes
Monte-Carlo
Portofino
Milan
Day 1: London
I arrived in London pretty late at night and was seriously jet lag from traveling from Boston to California just a few days before this trip. However, thankfully, I was able to muster up some energy and head out to meet my sister and some of our super close family friends who live in London.
I was so glad I went out because it was a lot of fun hanging out with our friends and experiencing a different part of London I had never seen before.
Day 2: Nice to St Tropez
The next morning we flew to Nice to board the yacht to go to St Tropez. I knew we were going on a boating trip, but I had never imagined that we would be on a yacht like this. This yacht was not only massive, but outfitted with everything you could imagine, including a full-sized hot tub.
Once aboard the yacht, we made our way to St Tropez. When we got to there, we wandered around the beautiful streets filled with every high-end boutique you could imagine.
That night, we ate at L'Opera. If you ever a chance to go to L'Opera for dinner.. you're in for a treat. It was a wild night, to say the least.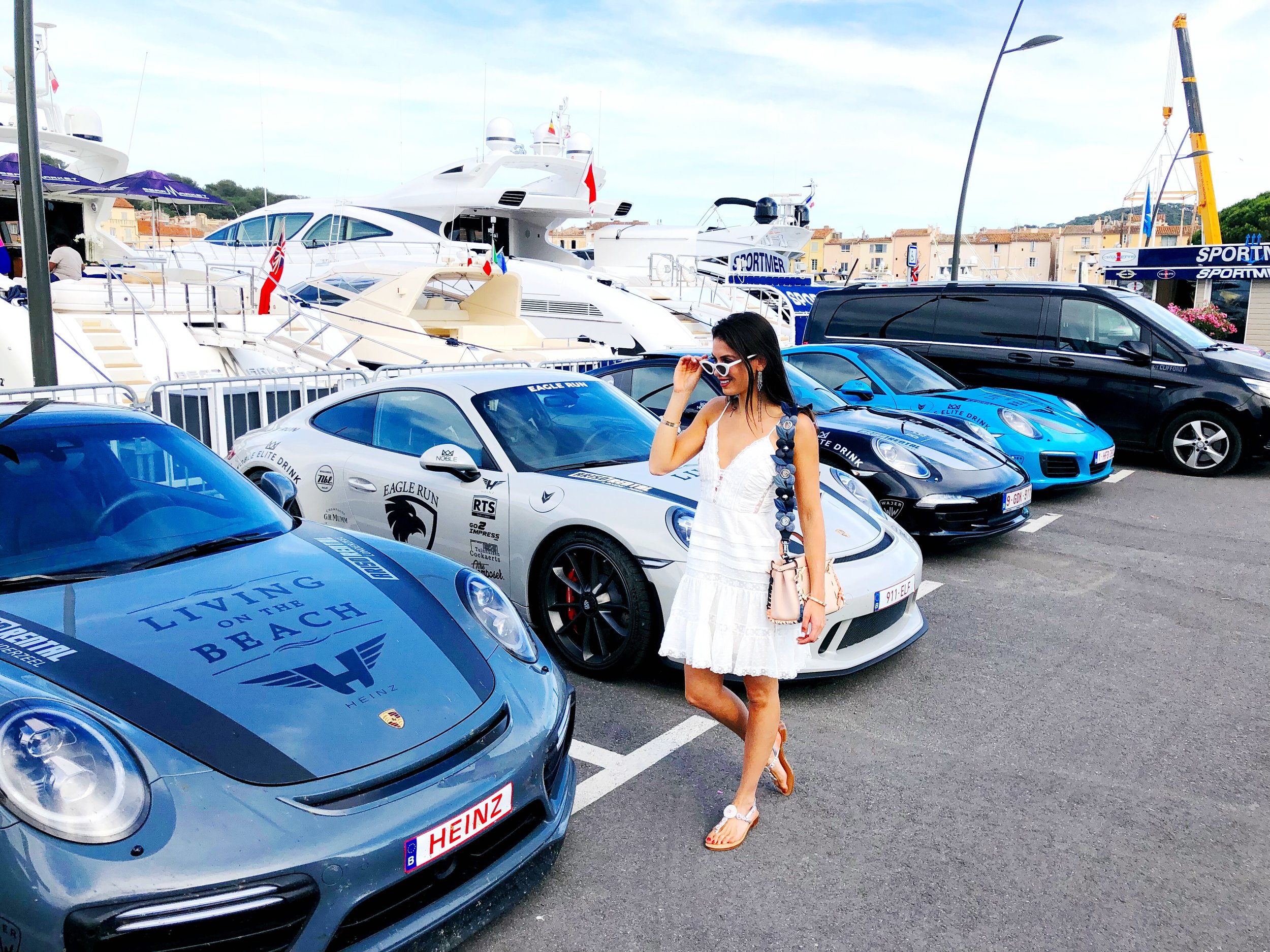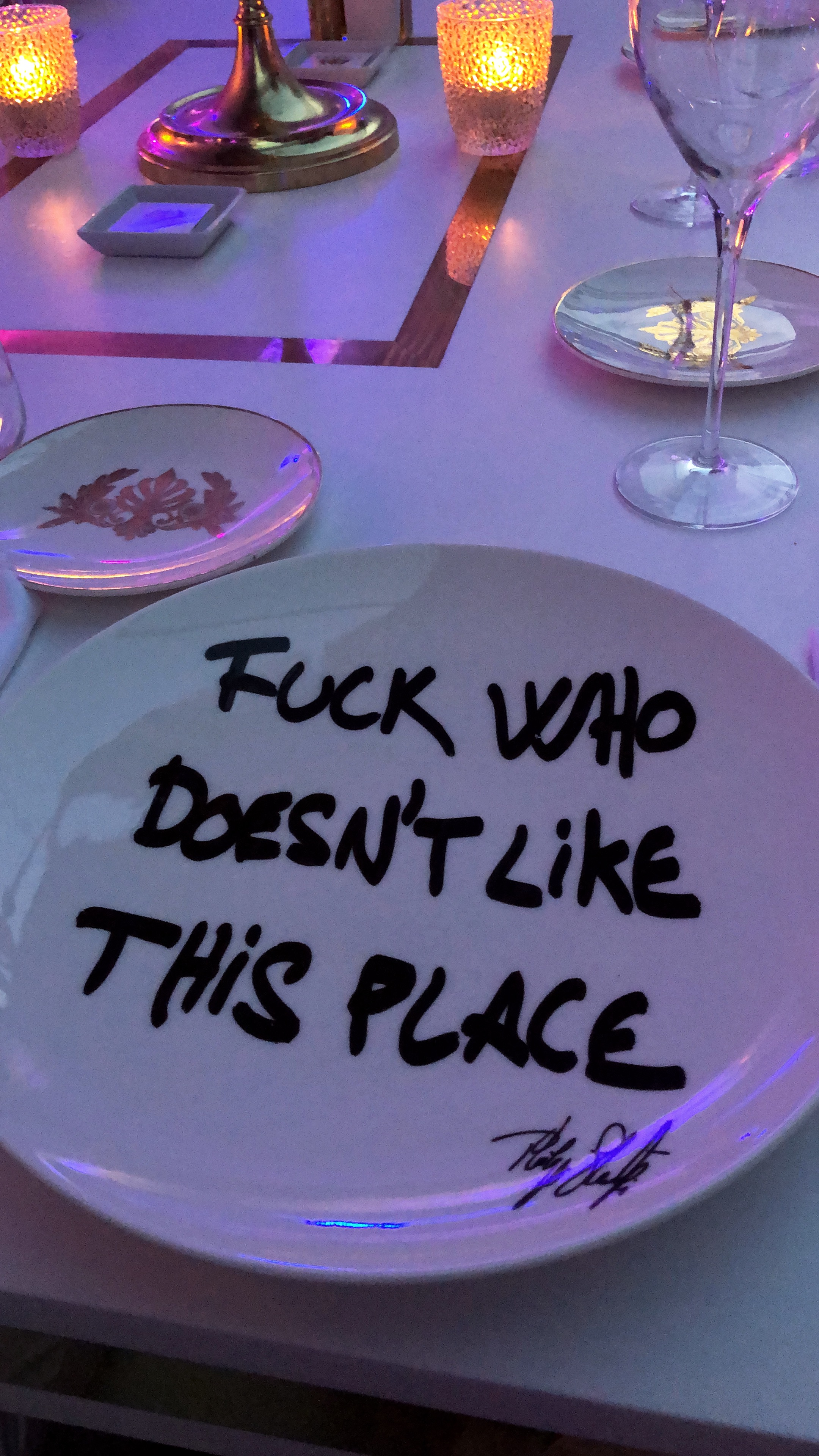 Day 3 St Tropez
Our second day in St Tropez was spent sailing to Nikki Beach for lunch and drinks by the pool. After spending the afternoon in Nikki beach, we went back to the city where we had a little more time to shop before another entertaining dinner at Le Quai. Similar to L'Opera, this restaurant also has scandalous dancers and live music, it is a spot you must go to while in St Tropez.
Somehow, my mom had managed to make friends with the kids that were docked on the yacht next to ours so after dinner we went to their boat for drinks and then ended up going out with them until 4am! It was definitely one of the best nights of the trip and so fun to meet new people from different parts of the world! They were all from Mexico City and they were extremely excited that Mexico had just won their game in the World Cup.
Day 4: St Tropez
We spent our last day in St Tropez at Club 55. Another beach club and exactly what we didn't need after a long night out...however, it was still fun. Club 55 is a famous beach club located on Pampelonne beach. Pampelonne beach is a 3 mile stretch of sand, home to the best beach clubs in the world.
After spending the day at Club 55 and meeting up with other friends that happened to be there too, we went back to the boat for appetizers and somehow the crew ended up challenging my sister and I to jump off the 3rd story of our boat.
It looked easy and fun at first.. until we actually got up onto the ledge, and then it turned into a 20 minute fiasco/screaming fest before we actually had mustered up the courage to leap off the boat.
That night we had dinner on the boat. This was my favorite dinner of the entire trip. The chef on the boat made all of our favorite foods and it was seriously the most delicious meal I've ever had! I still crave it just thinking about it.
After dinner we sailed to Cannes.
Day 5: Cannes & Antibes
Cannes is the number one destination on the French Riviera for high-end shopping. All the big luxury names are present in Cannes; Prada, Gucci, Hermes, Chanel, Christian Dior...
When we arrived in Cannes it was quite late. There was a large advertising convention going on so a few of us got off the yacht to explore the town and others stayed on the boat to party and sleep for another big day ahead.
In the morning, my dad and I woke up early to explore Cannes a little bit. We walked along the water looking at all of the high-end boutiques lined up along the shoreline. It was pretty hot and I was anxious to get back on the boat to spend the afternoon in Antibes...one of my favorite places in the world.
Antibes-
Famous for housing the palatial hotel, Hotel du Cap. This is the hotel where the stars stay during the Cannes Film Festival and considered by many to be the most luxurious hotel on the Cote d'Azur.
I was SO excited to come back to the Hotel du Cap because the first time I went a few years back, I contracted serious food poisoning and couldn't leave my room the entire trip. It was horrible.
Anyway, this time I made sure I did not experiment with any new foods and was able to enjoy the afternoon at this stunning slice of heaven.
When we arrived, we anchored and had lunch at the beautiful Eden-Roc Grille which overlooks the hotel's famous seawater pool and then strolled through the property's gardens. We happened to run into some friends which was really cool and learned that Shaq was also at the hotel.
We took a quick swim and then tendered back to our boat for sunset appetizers and paddle boarding.
Day 6: Monte-Carlo
Monaco has two ports that each have their own very distinct flavor. The Port de Fontvieille is laid back and relatively quiet, which appeals to those looking to relax, and the main port, Port Hercule, appeals to those looking for the ultimate French Riviera experience.
The Port Hercule is framed by the old town of Monaco (the rock) on the west, by numerous apartment blocks that rise up on the north, and the glitz and glamour of Monte-Carlo on the east.
Port Hercule is also famous for being the location of the Monaco Grand Prix. After anchoring at Port Hercule, we watched the sunset from our boat and then ventured up to the Prince's palace.
We had a dinner reservation at Sass Cafe, a hotspot which happened to be located right across from the "International Television Awards". While walking to dinner, I accidentally stumbled right onto the red carpet at the same time as the entire cast of House of Cards was walking down it.
The next day, we spent the afternoon at The Monte Carlo Beach Club. A very famous beach club with stunning views!
During our visit to Monaco, I went on a run (the first and only time I worked out all week.. yikes), gambled a little bit in the famous casino and explored the amazing shops.
There is also a Nobu located in Monte-Carlo, one of our favorite sushi spots, but we opted to eat at other restaurants since we go to Nobu frequently in the states.
Day 7: Portofino
Portofino is a beautiful fishing village and considered to be one of the most attractive places in this part of Italy.
One of the best parts about waking up in Portofino was waking up to a massive waterslide that our crew had blown up on the side of our boat for us. Before tendering into explore the city, we all went down the waterslide multiple times, screaming and laughing. We also went jet-skiing and played with some other electric water toys and then got dressed for lunch.
Exploring Portofino was truly magical. Its a stunning little city that is perfect for wandering around with an Aperol Spritz in hand, and soaking up the colorful architecture.
Since we really hadn't exercised at all during the entire week, my parents and I decided to hike up to the Castello Brown (Brown Castle). On our way up to the castle, we had direct views of Dolce & Gabannas personal homes... I could immediately tell where they got their inspiration for their clothing as city was populated with olive and lemon trees and beautiful flowers.
That night, we were escorted to the fabulous Hotel Splendido for a very spectacular dining experience. Hotel Splendido is located high above Portofino, offering a breathtaking view of the city.
Day 8: Milan
Milan, known as the fashion capital of the world, was a city I was extremely excited to explore (not surprisingly). Although we had very little time in Milan since our trip was coming to an end, we still managed to take full advantage of our time and explore a majority of the beautiful city and the famous Milan Cathedral.
Since we were now staying in a hotel in Milan instead of a boat like we had during the rest of the trip, Milan gave my family and I a chance to each go separate ways for a few hours and explore what we wanted to.
My mom and aunt immediately went to a salon that my mom had been to before to get their hair blown out, my sister and her friend were most interested in finding pasta for lunch and they took my uncle along with them... and I was most interested in visiting the Valentino and Missoni flagship stores in Milan.
My dad volunteered to come with me so I wouldn't be alone but I guarantee you that checking out the "Missoni" and "Valentino" boutiques was not the first thing on his Milan wishlist.
We ate dinner at the Bvlgari hotel and then went back to our hotel, which was the Armani hotel for post dinner drinks and to say goodbye to each other since our trip was over and we were each going separate ways the next morning.
Favorite parts of the trip:
Jumping off the 3rd story of the yacht
Sliding down the water slide on our yacht
Meeting the kids from Mexico City on the Yacht next door and going out with them in St Tropez until 4am
Having the best meals of my life made by our Chef Lucca on the yacht (still craving literally every single thing he made us and now nothing tastes as good as his food)
Shopping in St Tropez and Milan (Valentino and gucci in Milan were amazing! Loved seeing Fornessiti too)
Going back to Hotel Du Cap - my favorite hotel in the entire world
Joking with the boat crew
It was truly the perfect amount of time in each city. Besides Milan, I definitely could have stayed there and shopped for weeks… however, with all of our luggage we were already hauling around with us, it was a good thing our time in the fashion capital of the world was limited.
xx
Carolyn
PS - Euro Trip Outfit Guide with links to everything I wore coming soon... many outfits not pictured above!